Astrophotography, the Moon, the Stars, and the Northern Lights
I have always been fascinated by the night sky. It absolutely blows my mind that we are sitting on a big round rock, hurtling through the universe at approximately 67,000 mph (107,000 km/h). If you ever want to feel really small, look up at the stars, knowing that there are billions of them, going on and on and on, forever. Although I don't think it will happen in my lifetime, I would love to live to see humans exploring the cosmos. Who knows what's really out there, it's the final frontier of exploration.
Photographing at night is always a challenge. It involves a lot of planning, the right gear and often times a little bit of luck. Today I am sharing with you some of the best experiences I have had, gazing up at the galaxies.
Stars Over Assiniboine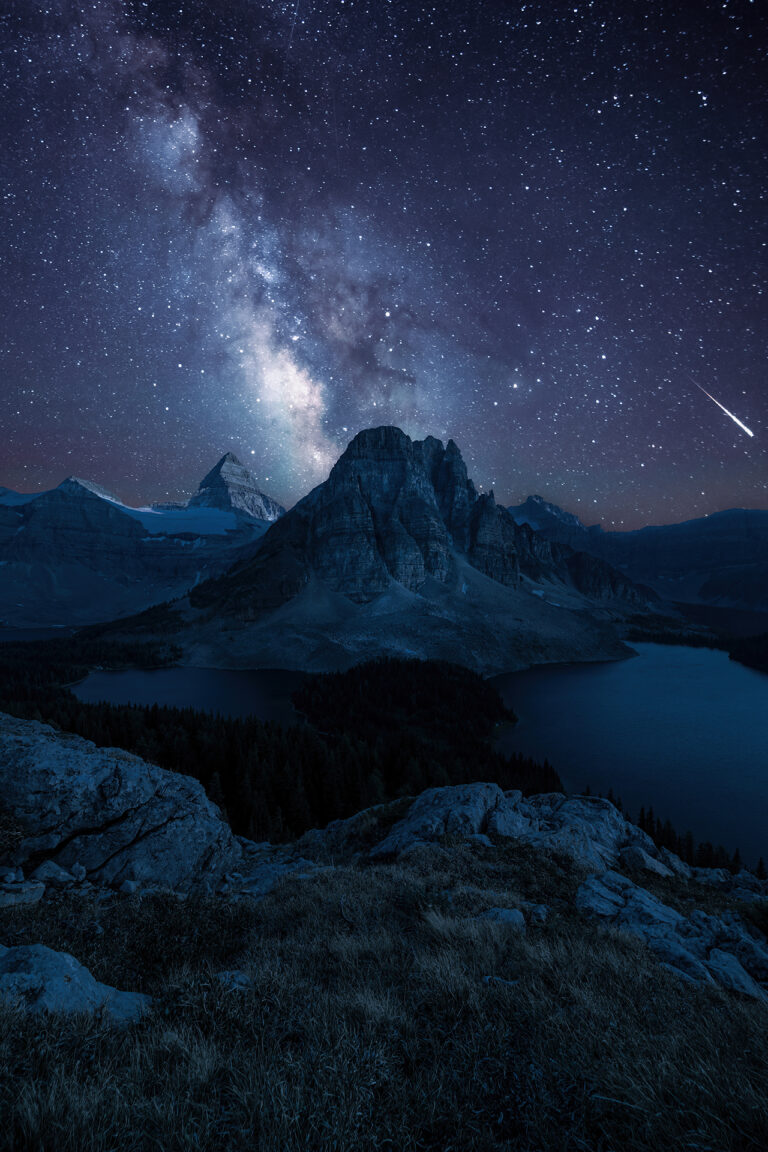 I had only been to Assiniboine Provincial Park once prior and at the time I was still quite new to landscape photography. Coming back years later, it was just as beautiful as I remembered. We had already hiked almost 30kms by the time we set up camp for the night. Carrying a 45lb bag with all my camera gear in it all day, I was pretty beat. Even so I had to make it back up to this famous lookout to capture the sunset. As we got to the top the golden hour was unfolding and casting beautiful shadows over the scene below us. It had to have been some of the crazier winds I've experienced though! I was afraid that my camera was going to blow away…maybe I need to invest in a sturdier tripod. It was a stunning clear day, but unfortunately bluebird skies don't usually make for the best landscape photo conditions. I did however, take the opportunity to get some blue hour photos to make the composite image you see here. This is my version of a Starry Night by Vincent van Gogh, except deep in the mountains.
Starry Nights in the Revelstoke Backcountry
This was actually one of my first backcountry adventures not following any trail at all and finding our own destination. The alpine meadows we crossed had to be some of the biggest I've ever seen. The variety in flowers was incredible. We slept on top of a mountain, Bivouacked among the rocks on the summit. As we were setting up camp on the summit I put a hole in my air mattress, which resulted in quite a chilly night. I woke up to a thick layer of frost on my sleeping bag. It was O.K. though because I didn't spend much time sleeping anyways between the cold and taking photos of the milky way. If you've never cowboy camped under the stars in your life, I would highly recommend it to anyone as an item on your bucket list. There's something primal about watching the universe circle around you while you're just worried about basic needs.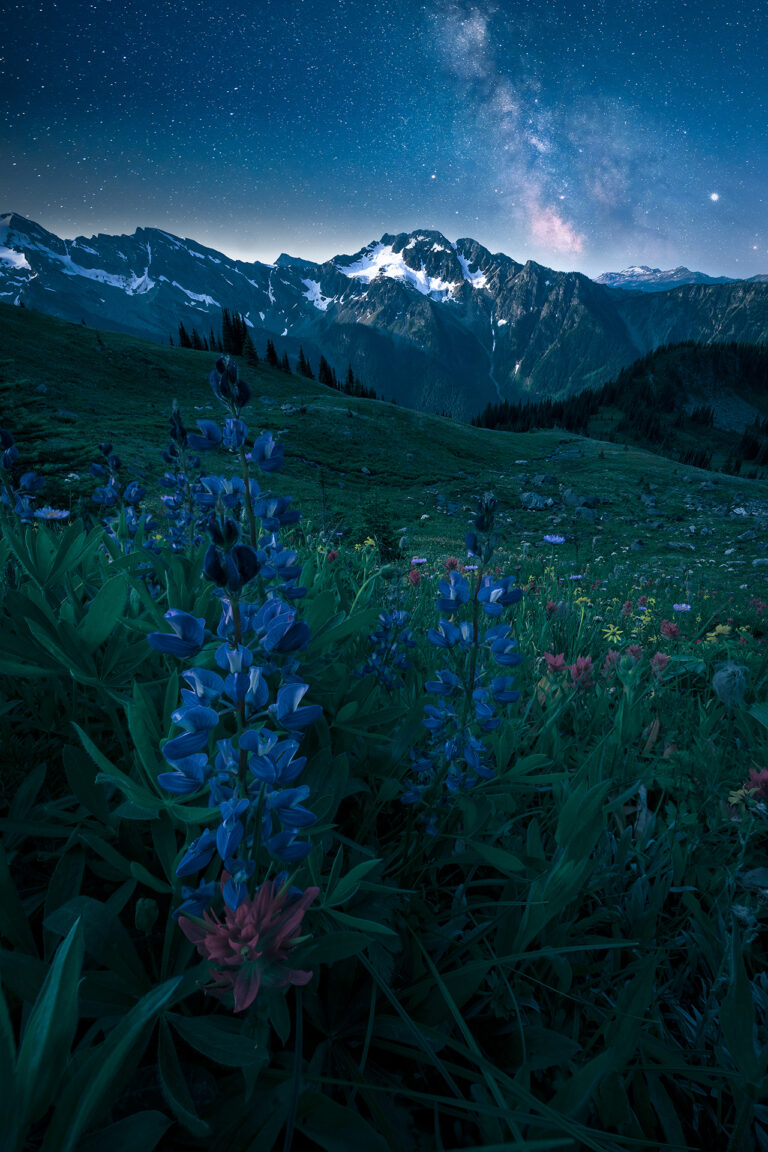 Aurora Borealis in Deep Winter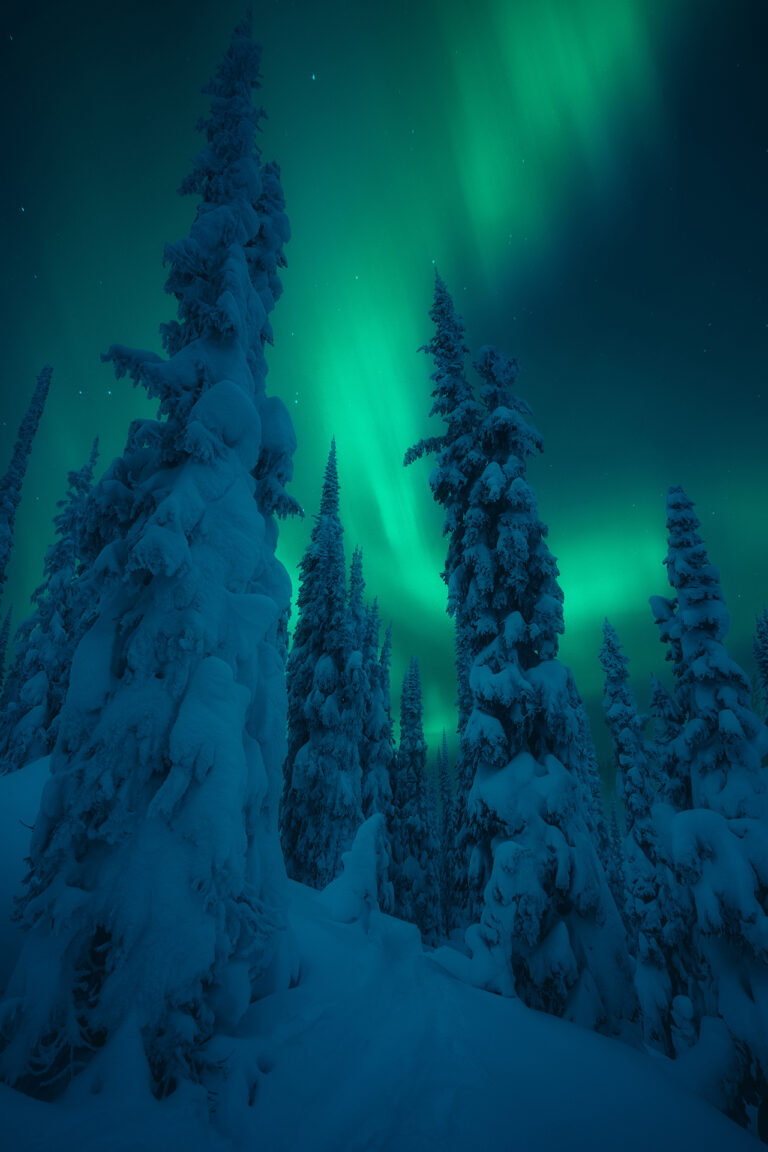 Camping under a clear night sky in the backcountry is one of my favourite things to do. Getting away from the light pollution of the city and seeing billions of stars shining in the sky is something I think everyone should witness at least once.
I camp a lot less in the winter than I do in the summer. Everything's a lot harder and you need more gear. However, every time I have gone out in the winter, it has been a truly magical experience. Sound gets muffled by the snow and there's not much wildlife or people around. It invokes a serious sense of calm and peacefulness.
This shot is composed of two parts. The snow covered trees were photographed in the blue hour during my first backcountry ski experience with some good friends. We slept in a snow cave we built. By the morning it had almost collapsed and my sleeping bag was soaked from the condensation. Nonetheless, it was a night I will never forget. The aurora in this photograph was taken on a different evening. It was one of the first dates with my girlfriend and we were lucky enough to witness the magic of a huge solar storm. The green lights danced across the sky for hours. Their beauty was intoxicating. Talk about an unforgettable date.
Milky Way Photography at Three Valley Gap
Winters in Canada can get cold, really cold. Where I live we will get periods where the temps hit -30 to -40 degrees Celsius. If you're willing to brave the cold it can make for some incredibly beautiful landscapes.
I arrived at this local lake just as the sun was starting to set. I had come here with the intention of shooting the sunset. Bundled up in four layers of warm clothing I gingerly walked around the partially frozen lake in search of a good composition. I watched a pair of swans nearby relaxing by a stream, seemingly not fussed by what I was doing. I could see a couple in the distance ice-skating, hand in hand, making the most of the cold weather. The sunset ended up being a bust, so I decided to stick around and wait for it to get dark. The frosty air burned my nose as I sat and waited, enjoying the peace and quiet around me. Moments like this don't happen often and I like to cherish them whenever I can. Even though I felt very uncomfortable in the cold, I felt even more gratitude for the beauty it had brought with it.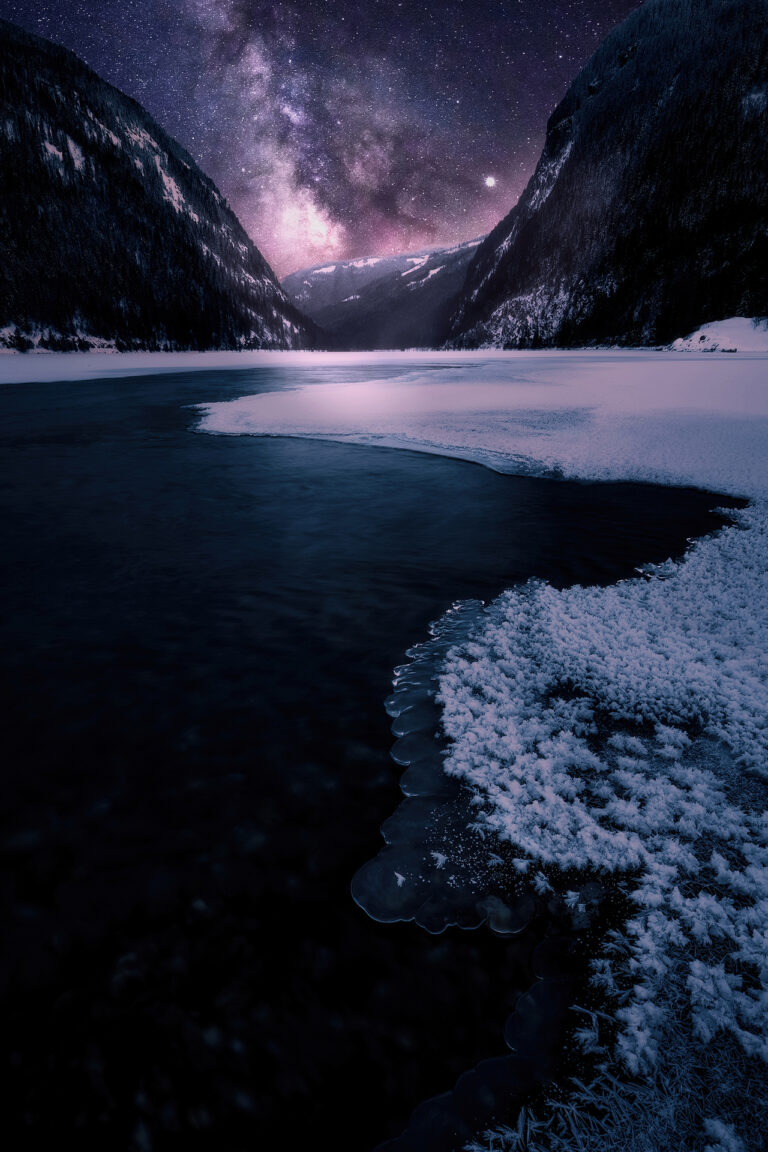 Blood Moon Rising from Tin Hat Mountain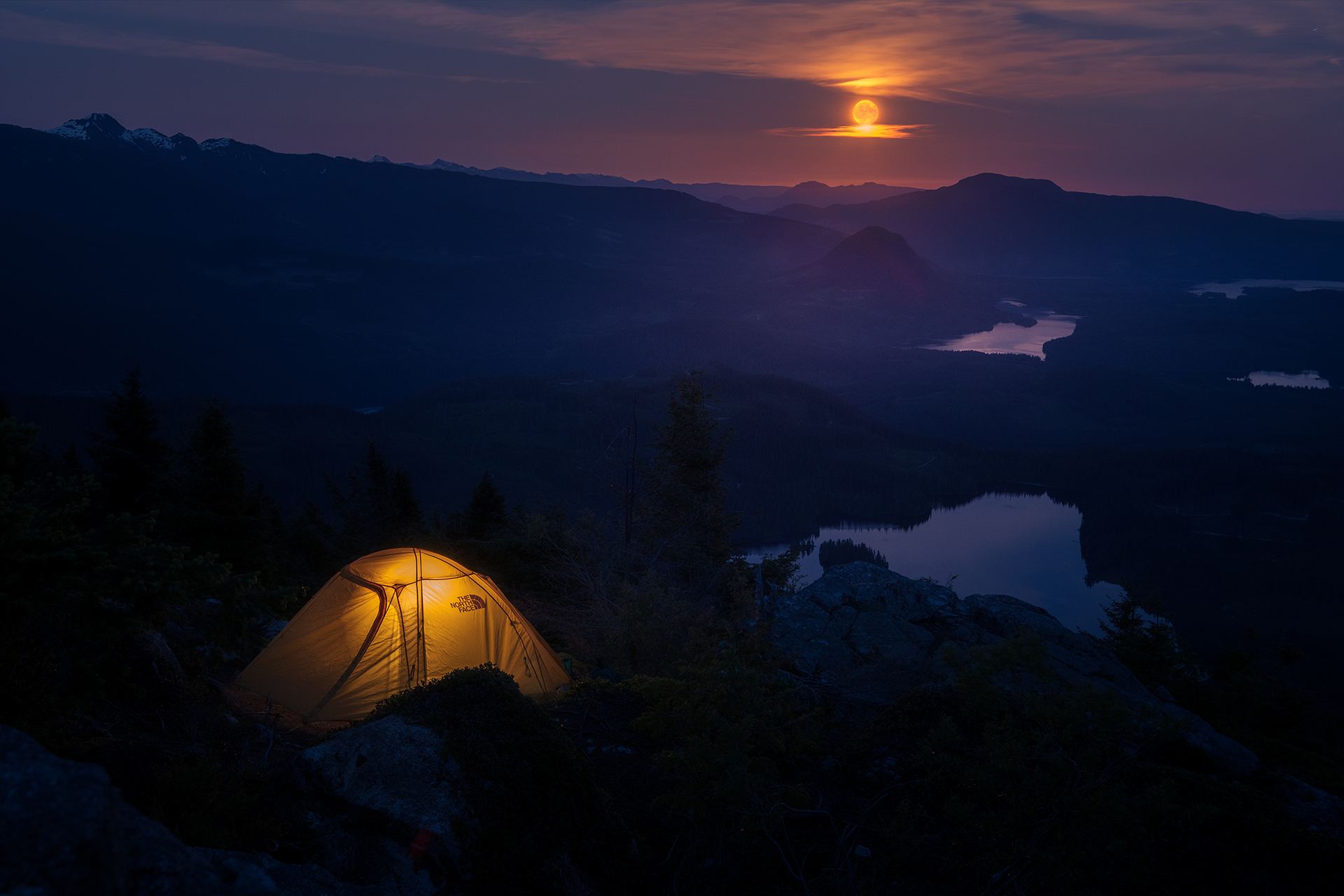 On a recent road trip through Canada my girlfriend and I made a two week pit stop on the Sunshine Coast of British Columbia. While there we trekked up to top of the popular Tin Hat mountain for a night of camping. Tin hat mountain is actually part of the long Sunshine Coast Trail, which is a 185km multi-day trek that offers rustic huts for you to stay in along the way. Since this trail is quite busy in the Summer we decided to bring our tent along just in case the hut was full. Sure enough, after trekking 12km through beautiful old growth forest there were already 10 people at the summit and the hut was indeed full. Luckily I enjoy the privacy and primitiveness of our trusty North Face tent just as much as a cushy crowded hut.
That night happened to be a the night of a full blood moon. My girlfriend and dog had already cuddled up in the tent, but I was determined to wait for the moon to come out. Then all of a sudden, a bright orange sliver appeared above the horizon in the distance. It was the biggest moon I had ever seen in my life. It illuminated the peaks, valleys, ocean and lakes below. Still to date one of my favourite backcountry camping experiences.
Northern Lights in Smithers, British Columbia
Another stop on our cross country trip this past summer was Smithers, British Columbia. I really enjoyed my time here. It felt like it still had an element of wild to it, but there was everything you needed. Good food, lots of trails and a friendly community. We were camping just outside of town at a local swimming hole, nobody seemed to mind us parking there for a few days. We had just finished our supper when the aurora alert on my email pinged. I decided to stay up a little bit longer to see if I could catch a glimpse of the green lights. It started off as a feint glow, but then all of a sudden bright green and pink waves of light were dancing across the sky. I had never seen them this far north, but it was the most vivid I had ever seen them. They are one of the world's natural wonders for good reason and if you ever get to experience them in person it is a truly life changing experience.